The Maasai stove has a metal firebox and a brick surround and chimney. It reduces smoke by over 90%, dramatically reduces carbon monoxide in the homes and each stove reduces CO2 by over 3.6 tonnes a year.
Professor Lange is a US physics professor who has been working in Tanzania for over 25 years. He founded the International Collaborative for Science, Education and the Environment (ICSEE) in 1992 and set up the Maaasi Stoves and Solar Project two years ago.
The stoves are manufactured locally from steel and bricks. The steel is imported from South Africa. Currently the project uses charity to subsidise the cost of the stoves and over 2900 have been installed. The new company that has been set up to expand the project using CERs is Nyumbani Innovations Limited and it will build a factory to produce 30,000 fireboxes a year. Local bricks are used and teams of trained women are paid to install the stoves. With finance from the sale of CERs, the project becomes profitable and has a positive Internal Rate of Return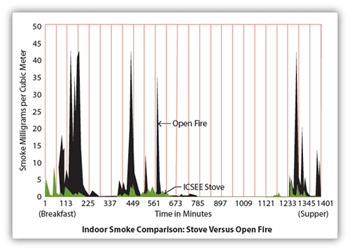 What the women and ICSEE have created is more than just a 'stove': it's home improvement. Nyumbani Innovations has the strapline: better homes, better lives.
These stoves free up women's time and energy. Instead of fetching and carrying wood on their backs for 20 hours a week, it takes them eight hours – freeing 12 hours a week for other activities.
The women often choose to spend the time they gain on their smallholdings, farming their land. Many women decorate their homes too, once the smoky environment has changed.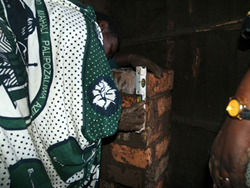 Before installing the new stoves, local women spend five or six hours every day in their homes around a three-stone fire. This is like being in small room with no windows with a bonfire in the middle of it. And many have a baby on their back.
A new stove means an end to this smoky existence. The women love the stoves. They say their god sent Professor Lange to help them. They are healthier, have more time, their children are healthier and the local and wider environment also benefits. A spot check three years after stoves were installed showed that not one had been abandoned; one hundred percent were still in use!
Each stove saves around three tonnes a year of wood; that's three tonnes of wood that each woman doesn't have to carry on her back each year. It's also three tonnes of wood that isn't taken from the local environment; an environment where 96% of the wood is classed as 'non-renewable', so what is taken is not replaced.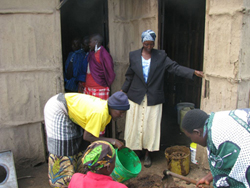 The stoves make a radical difference locally and also contribute to helping reduce CO2 emissions and reducing the escalation of climate change. These global benefits are recognised and rewarded through CERs being issued by the UN.
Because the project sells CERs, each woman can buy her stove more cheaply than would otherwise be possible. In turn, women with new stoves are part of a project where the money from the CERs their stoves produce is also reinvested in the project, to expand it to reach their neighbours and wider community.
The project has letters of intent from buyers of CERs and is in discussions with financiers regarding investment in the project.
Through the installation of hundreds of thousands of stoves, the project will provide benefits for homes and the local environment of many more people as there are often five or six in a family. Manufacture creates local employment and having women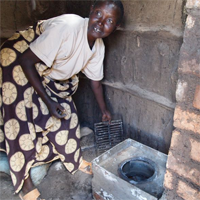 install the stoves also improves the local economy and further contributes to community involvement and adoption of the stove.
The business structure is fan-shaped, with a headquarters, a factory, local centres working in villages. Once the factory is established, work will commence on refining the design for other ethnic groups, who may have differing living, eating and social norms. A small research facility will consider any refining of stoves for particular needs. Market potential in the region is at least 5 million stoves.